CBI survey says manufacturers face tough year ahead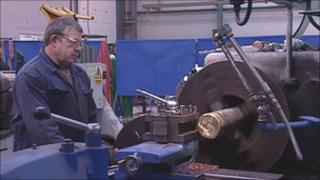 The outlook for Scottish manufacturers over the next 12 months has "turned negative", according to a CBI survey.
Its latest trends survey suggested growth prospects for the sector were increasingly dependent on exports, with a disappointing domestic market.
Export orders grew for the sixth consecutive quarter, and are expected to grow again in the next three months.
But new domestic orders were down in the three months to July after a strong performance in the previous quarter.
Scottish manufacturers were also less optimistic about their export prospects for the coming year than they were at the time of the previous CBI Scotland quarterly survey.
Overall output growth turned negative compared with the previous three months.
Scottish manufacturers reported another strong rise in average unit costs over the past three months, in line with expectations, and were able to pass on some of these costs in their domestic prices, which increased again in this quarter.
Aided by the past depreciation of sterling, they also raised their export prices.
'Disappointing'
Costs and both domestic and export prices are expected to rise in the next three months.
Employment was up for the fifth consecutive quarter, but little change in headcount is anticipated in the next three months.
CBI Scotland director Iain McMillan said the results of the survey were "disappointing", with declining optimism and contractions in orders and output over the past three months.
He continued: "Although exports are still performing well, the outlook for the next 12 months has turned negative.
"Taking the results of this survey into the picture, together with yesterday's UK second quarter GDP figures and other data, it's clear that the underlying economic recovery remains fragile and challenging."
Mr McMillan added: "Manufacturers have much work to do in the months ahead but it is also important that the UK and Scottish governments give top priority to repairing the public finances and rebuilding our economy by delivering on those policies that will assist investment and trade and support manufacturers going forward."
A total of 39 firms took part in the latest industrial trends survey.