Irn Bru maker AG Barr facing capacity glitch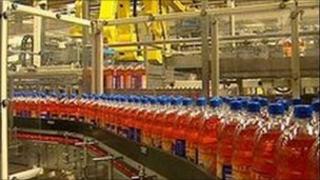 Irn Bru maker AG Barr is facing "short-term capacity issues" at its Cumbernauld production facility after a delay in the supply of equipment to complete a major investment project.
The firm said it was waiting for the last pieces of unspecified kit from suppliers.
The delay means the project to create new production capacity will take 10 to 12 weeks longer than envisaged.
The company expects capacity to improve gradually "in the coming months".
In a trading update, AG Barr said: "We have faced a number of operational challenges related to the late delivery of the final stages of our manufacturing investment at Cumbernauld, which have driven short-term capacity issues and subsequent costs into the business during the first half.
"Final installation activities are expected to be completed in the next few weeks and we anticipate a gradual improvement in our production capacity and efficiencies over the coming months."
The company has invested more than £10m in new capacity at the site over the past year.
Market dip
In the trading update, AG Barr also reported a rise in profits for the first half of the year, despite a recent dip in the overall soft drinks market.
The firm said it anticipated total sales of £123m for the six months to 30 July, up about 3.5% on the same period last year.
AG Barr said the soft drinks market had remained resilient over the period.
But it added the market performed "particularly poorly" in the month to 9 July, thanks in part to poor weather.
Barr commented it had performed "consistently" and in line with its expectations across the first half of the year.
'Sales momentum'
It continued: "Overall our sales momentum is increasing and despite difficult market conditions in June the business has performed well in July, building on the growth experienced earlier in the year."
Barr - which makes Orangina, Tizer, Rubicon and Ka drinks, as well as Irn Bru - will announce its interim financial results for the six months to 30 July on 27 September.
In a separate development, Barr said it was in discussions with planners over moving its proposed 2MW wind turbine to a new location at its main operations site.
The turbine would generate the equivalent of 60% of the total electrical energy demand of the Cumbernauld site, reducing carbon dioxide emissions by 2,800 tonnes per year.