Russian demand helps sausage casing firm Devro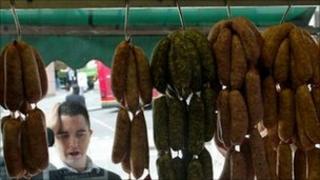 Demand from Russia and other countries has helped boost profits at the sausage skin maker, Devro.
The Moodiesburn-based group said pre-tax profits for the first half of this year increased by 19% to nearly £20m.
Devro said the global market for collagen casings continued to grow, driven mainly by economic growth and increased meat consumption.
The company employs 2,000 people in four locations worldwide.
As well as its base in Scotland, the company manufactures in the Czech Republic, the United States and Australia.
Devro chief executive Peter Page, said: "We're very much a global business selling in more than 100 countries worldwide and looking around the world it's quite mixed, many of the developed markets, the US, Europe are seeing flat sales volumes of food products."
He added: "We're seeing good increases in volumes in the emerging markets, Latin America, Eastern Europe Russia particularly."
The company said its new "Select" range, designed to replicate the characteristics of sheep gut, had sold well in Japan and Europe.
The company said although it had to contend with rising costs this had also provided it with opportunities.
Carbon concerns
Mr Page told BBC Radio Scotland: "I think probably a very good example is Japan where, for years, food has been produced to a very high standard, but the price and the cost points have always been critical.
"Many of the raw material costs have risen to the point where more Japanese manufacturers are open to our sort of casing and technology.
"We've actually seen the leading Japanese supermarket retailer now start with an own-label line using our newest product as a way of maintaining quality but reducing cost."
But Mr Page hit out at what he described as a lack of "clarity" and "consistency" from government on energy policy.
"We have no clear view of the next 20 years of what the carbon levies are going to be, what the reduction targets are going to be, how they're going to implement them, how they're going to manage them", he said.
He added: "We're making investment decisions without really knowing what constraints or charges are really going to be put upon us and that's very different to some other countries."
Devro is spending £12m on its Bellshill manufacturing plant this year, to install new, faster production lines.