Scottish retailers showing signs of strain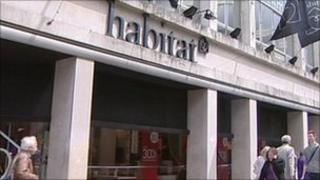 Scottish retailers are more likely to be struggling financially than other businesses, according to a survey.
Trade body R3 said more than half of retail businesses had seen a drop in profit - 24% higher than average across all industry sectors.
The survey also showed that 41% of shopkeepers were concerned about debt levels and about 8% were likely to be declared insolvent over the next year.
A number of high profile retailers have already gone bust this year.
They include Habitat, Jane Norman and Focus DIY.
R3 Scottish spokesman Iain Fraser said: "As consumers have less money to spend, stores are discounting their prices to get people through their doors; this is at a time when inflation and rising commodity prices have increased retailers costs."
He said that the recent quarter day when retailers usually pay rent in advance to their landlords would have put extra pressure on shopkeepers.
Mr Fraser added: "The next quarter day could prove difficult for many to weather as it falls at a time when most retailers will be replenishing their stock ahead of Christmas.
"Unfortunately this year cash-strapped consumers are likely to hold off until the Christmas sales before making significant purchases, thus putting further strain on retailers."
When it came to shopkeepers hiring intentions, the survey found that just 8% of retailers were making redundancies, although the cross-sector average was 13%.
"In the retail sector personnel tends to be one of the main costs to a business so the fact that retailers are not making redundancies may suggest that retailers have already reduced their head count as much as they can," said Mr Fraser.