Scottish retail sales outstrip UK performance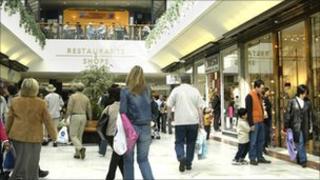 Retail sales in Scotland have outstripped the UK's performance over the past year, according to official figures.
The Retail Sales Index showed the value of sales grew by 3.3%, while the UK figure stood at 2.9%.
The value of Scottish sales also grew by 0.8% in the second quarter, which was 0.2% more than the UK figure.
However, sales volumes grew at the same pace in Scotland and the UK, rising by just 0.2% over the quarter.
Commenting on the figures, Scottish Chambers of Commerce chief executive Liz Cameron said: "These figures show marginal growth in retail sales and, although this is encouraging, it is not yet firm evidence that the sector is in recovery.
"The retail sector in Scotland remains fairly pessimistic in the face of fierce competition, tight consumer budgets and rising cost pressures."
She added: "The good news is that the Scottish retail sector appears to be slightly ahead of the UK sector as a whole in terms of sales growth and this is a position it will be important to maintain into the future."
Scotland 'outperforming'
Enterprise Minister Fergus Ewing said while it was encouraging that retail sales had increased and Scotland was outperforming the position south of the border, there could be "absolutely no grounds for complacency".
Mr Ewing said the resilience shown by the Scottish retail sector suggested measures taken by the Scottish government, such as the council tax freeze, had had an positive impact on consumer confidence.
He added: "However, more needs to be done and recovery needs to be strengthened."
The Retail Sales Index surveyed about 700 businesses across the Scottish retail sector.
The index is published by the Scottish government.