Pringle of Scotland looks forward to the past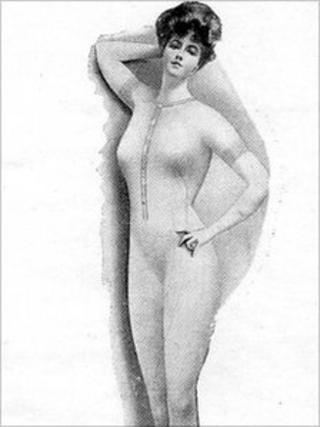 One of Scotland's most iconic fashion brands is setting its sights on the future by revisiting its past.
Pringle of Scotland opened an exhibition in Edinburgh this week featuring pictures and vintage clothes from its 196-year history.
The 'pop-up' exhibition at Harvey Nichols is part of an archive project launched by the Hawick-based company.
Pringle, which started out in 1815, said it wanted to "celebrate its brand heritage for future decades".
But the move is more than simply a trip down memory lane.
The exhibition features reissues of vintage styles designed in collaboration with fashion designers from Central Saint Martins College of Art and Design in London.
It is hoped the archive project will boost profits by encouraging a new interest in Pringle products both in the UK and further afield.
Sporting past
Pringle is still best known by many for the multi-coloured, diamond-patterned sweaters made popular by the likes of Nick Faldo on golf courses around the world in the 1980s.
But its starting point was very different.
The company was launched by Robert Pringle as a manufacturer of hosiery and underwear.
Over the course of the 19th Century it became one of the world's first luxury knitwear producers, introducing cashmere to its range in the 1870s.
Pringle later went on to introduce its signature Argyle intarsia designs and retailored the two-piece cardigan and sweater set to create the "twinset" 70 years ago.
Pringle also introduced pink cashmere for men, and counted the late actor and socialite Noel Coward among its fans.
Screen stars of the 1950s who donned Pringle fashion included Brigitte Bardot, Jean Simmons and Grace Kelly.
'Design heritage'
But some believe the move to return to its roots could well pay dividends for Pringle.
Fiona Burnett, a former Pringle graphic designer who is now design director for brand agency Tsuko, said Pringle had a strong design heritage.
She commented: "The period of the Argyle and golf theme was actually a step away from their true background.
"It was for sport at the end of the day and very widely available for a mass market audience where, in actual fact, Pringle's heritage was luxurious cashmere garments which were very ornate and detailed.
"What they are doing now is much truer to their provenance and heritage.
"Pringle is connecting its history and its community - the people of Hawick - with the modern fashion designer."
That link with the community has diminished in recent years, however, as the company fell foul of tough trading conditions made worse by cheap textile imports from Asia.
Scaling down
By the late 1990s, the company was scaling down its workforce, which at one time had stood at about 2,000.
Pringle was sold off by Dawson International to Hong Kong firm Fang Brothers in 2000, and a restructuring process eventually led to the closure of its historic mill in Hawick in 2008.
But by then, the repositioning of the brand had already begun.
Creative designers at Pringle developed what they called the "new luxury aesthetic".
Several years ago, former creative director Claire Waight-Keller launched her runway collections, centred around innovative knitwear designs, while efforts continued to draw the company towards its original roots by drawing on its vintage items.
A Scottish spin has also been put on the new collections which are based on classic originals.
Scottish actor Tilda Swinton recently modelled some of the reissued designs as the company continued on its path of reinvention.
Fiona Burnett said: "With consumers focusing more and more on the authenticity and provenance of the brands they engage with, Pringle's approach to capitalise on their unique heritage alongside a collaboration with the UK's freshest fashion talent at Central Saint Martins is a nimble move.
"They have still a long way to go before they can parallel the success of fellow British brand Burberry - but the opportunity is there."