Public sector spending cuts 'hitting construction'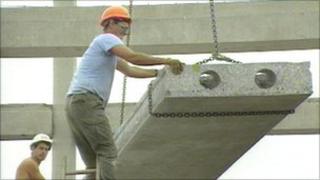 Scotland's construction industry is being increasingly hit by the public sector squeeze, according to surveyors.
The Royal Institution of Chartered Surveyors in Scotland (RICS) said builders were hit in the second quarter by a lack of private spending and further public sector cuts.
Its latest survey suggested construction related to public housing and public works deteriorated.
It also indicated private housing and private commercial workloads fell.
The RICS said government budget cuts continued to have an adverse effect on the sector, with 30% more chartered surveyors reporting that levels of public housing construction fell rather than rose.
The figure was similar for other public works, such as schools and hospitals.
Private housing and private commercial workloads also fell, with 9% more surveyors reporting a fall rather than a rise in both categories.
Total construction workloads across Scotland edged down in the second quarter, from a net balance of -10% to -13%.
The main issues for surveyors continued to be a highly competitive tendering environment and a continued lack of funding for projects.
Steven Brady, from RICS Scotland, commented: "The sector has had to endure the slowing down of the public project pipeline brought about by the changes in procurement announced in the UK government's spending review in October 2010.
"The decision to change the procurement routes for a multitude of current and planned projects served to put a dam in the stream of workload to the Scottish construction industry and applied pressure to an already fragile market."