Mackie's of Scotland eyes crisp market in US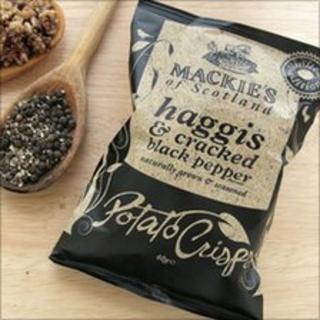 Mackie's of Scotland is poised to enter the American crisp market after recording rapid sales growth this year.
The Aberdeenshire firm, best known for its luxury ice cream brand, has signed an agreement with a US agency to secure orders in America.
Mackie's produces crisps in a joint venture set up two years ago with Perthshire potato company Taypack.
It expects to produce five million bags of crisps this year.
Mackie's already exports crisps to 17 different countries and has seen sales leap by 65% this year to about £2m. Exports now account for about 25% of sales.
Managing director Mac Mackie said: "Crisp sales are growing quickly and the export potential is huge.
"We have signed an agreement with an American agency and hopefully in the next month or so we shall start to get some fairly big orders from America."
The company is also eyeing the Chinese market after reporting healthy sales of their branded crisps in Hong Kong.
Ice cream still accounts for the bulk of Mackie's revenues.
That side of the family-owned business, which is based at Westertown Farm, Inverurie, saw sales reach £12m last year.