Lloyds Banking Group to shed 200 Scottish jobs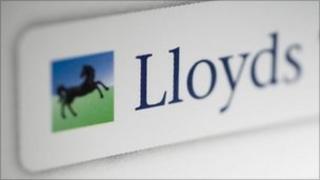 Lloyds Banking Group has announced it is to shed about 200 jobs in Scotland.
The job losses north of the border were revealed as the group confirmed it would shed 1,300 jobs across the UK.
The "role reductions" are expected to be in the retail, IT, wealth and international, and risk management areas.
Last June, Lloyds said it planned to cut 15,000 jobs, having already shed 27,500 posts since its merger with HBOS in 2009.
The move is part of the banking group's strategic review that targets £1.5bn in annual savings by 2014 and aims to reduce its international presence.
The banking group said more than 1,100 of the UK-wide job losses announced on Tuesday formed part of reductions previously announced in the review.
The 180 remaining losses are part of an ongoing three-year integration programme due to finish at the end of this year.
In a statement, the high street lender said: "By becoming more efficient, the group will be able to re-invest in growth initiatives to deliver better value for money products and services whilst providing investors with strong, stable and sustainable returns."