IndigoVision's UK sales hit by 'spending cuts'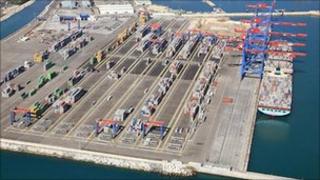 Public spending cuts have hit UK sales at video security firm IndigoVision, the company has said.
In a trading update, the company estimated UK business fell by 12% in the year to the end of June, offsetting sales growth of 18% in northern Europe.
The Edinburgh-based firm said the fall in UK sales was "largely expected" as public spending cuts took effect.
IndigoVision also said its estimated overall trading performance was below earlier market expectations.
The company - which produces internet-based video security systems for airports, ports, casinos and border crossings worldwide - estimated turnover for the year at £28.9m, which was 3% above last year but below earlier expectations.
Group pre-tax profits were estimated at about £1.2m, which was also lower than market expectations.
Sales growth was strong in Latin America and "satisfactory" in Asia Pacific but there was no overall growth in North America - where sales fell by 3% - and in Europe, the Middle East and Africa.
In its update, the company said its estimated trading performance for the year did not meet earlier market expectations.
It continued: "However, although sales fell in two regions this was offset by good growth in the developing regions, the group was profitable for the year as a whole, IndigoVision remains financially strong, and the flow of new product introductions has strengthened and should continue to develop."
The results for the year are expected to be released on 21 September, along with an update on current trading.