Bank of Scotland warns US concern could hit jobs boost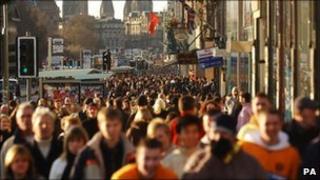 More workers in Scotland are finding jobs, although the economic crisis means improvements are difficult to maintain, experts have warned.
A Bank of Scotland survey said the number of jobs grew in July, but warned growth could be hit by concerns over the US economy and eurozone debt.
A forecast by the Chartered Institute of Personnel and Development and KPMG painted a similar picture, UK-wide.
The survey suggested manufacturing, in particular, was being hit hard.
The Bank of Scotland's labour "barometer" offers a snapshot of conditions by measuring demand for staff, employment and availability for work and pay, with measurements of 50 and above representing expansion and, below 50, contraction.
The barometer stood at 55 in July, down from 55.2 in June, although the figure was higher than the UK average.
Aberdeen led growth in the amount of workers securing permanent and temporary jobs.
Bank of Scotland chief economist Donald MacRae, said: "The Scottish labour market showed a further improvement in July, with both permanent and temporary staff appointments increasing strongly.
"There was a rise in the number of people placed into permanent work, bringing the current period of growth to 10 months.
"However, it will be difficult to maintain improvement, given the concerns over sovereign debt in the eurozone and slowing growth in the USA."
Compiled by Markit, the report is based on a monthly survey of around 100 recruitment and employment consultants.
Meanwhile, the CIPD/KPMG summer survey of more than 1,000 employers warned recovery in the jobs market was set to slow sharply.
It claimed an increase in the intentions of companies to hire staff was being replaced by a fall in confidence among private sector employers.
And a report by Scottish property website s1homes pointed to an increase in property asking prices, and a narrowing of the gap between asking and selling prices.
It said the average asking price for a home grew from £168,632 from January-March, to £173,144 in the second three months of 2011.
The average selling price also went up, from £146,253 to £153,820 over the same period.
The survey looks at data on about 20,000 properties.