John Menzies passes £1bn first-half milestone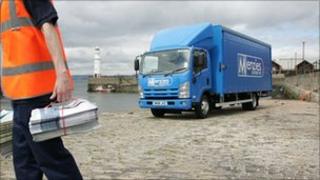 Turnover at John Menzies passed the £1bn mark for the first six months of the year, the company has reported.
The Edinburgh-based distribution and aviation services firm also revealed a surge in profits for the first half of the year.
Turnover rose from £984.7m to just over £1bn, while underlying profits rose by 30% year-on-year to reach £25.1m.
It said its performance had been boosted by a large number of contract wins in its aviation division.
Operating profits at Menzies Aviation rose by 52% to £13.8m, reflecting a net increase in the number of new contracts and an increase in ground handling volumes.
It also pointed to the "reversal of the negative impact" felt in the first half of last year from the eruption of an Icelandic volcano.
Chairman Iain Napier said he was pleased with the performance of both divisions.
He continued: "Menzies Aviation continues to prosper and for the first time was the larger profit contributor.
"The first half benefited from a large number of contract gains, demonstrating the division's position as the quality player in its market, and also the reversal of the financial loss relating to the volcanic event that occurred in April 2010."
He said Menzies Distribution continued to perform "robustly" but added that business in that arm had been largely flat.