Scottish hotels report upturn in business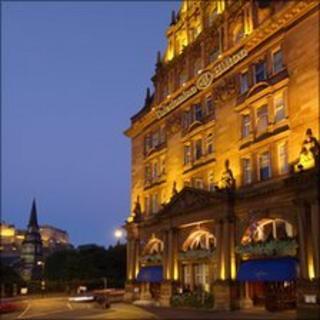 Occupancy rates and revenue have both risen at hotels in Scotland, according to accountants PKF.
The sector continued to outperform the rest of the UK in the June survey.
The major exception within Scotland was Glasgow, which was reported to have seen hotel occupancy rates fall by 3.6%.
PKF said that Scottish hotels have been experiencing an upturn for several months, although other parts of the UK are now beginning to catch up.
Alastair Rae, a partner at PKF, said: "These figures continue the trend of recent months which reveal the hotel sector in Scotland is broadly experiencing an upturn in the year to date.
"Occupancy and revenue figures are healthy for most parts of Scotland and the trend indicates that 2011 will be a return to positive growth for the sector."
Occupancy rates were up by 4.7% in Edinburgh and by 2.9% in Aberdeen.
Glasgow, however, saw occupancy rates fall by 3.6% - with revenue down 11.5%.
Economic uncertainty
Mr Rae commented: "The city, and a number of operators, have successfully targeted conference and business hospitality over the years and there is a concern that this kind of business is not returning at present.
"I am aware of hotel operators in Glasgow who are finding life tougher at present.
"Whilst these figures are very good news for the Scottish sector as a whole it is clear from the continued economic uncertainty that the UK faces that there is some way to go before it will be possible to declare that we are returning to pre-recession levels of occupancy and revenue across all of Scotland."
PKF's hotel trends surveys have been published regularly since the 1970s and feature a range of three and four-star hotels.