BAE Systems in Fife secures £20m Eurofighter Typhoon deal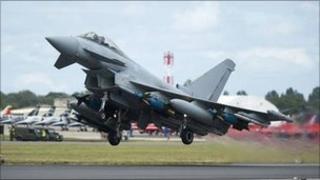 Electronics workers in Fife have landed a £20m order to help build one of the world's most advanced radar systems.
BAE Systems at Hillend near Dunfermline will embark on building the next generation of the Typhoon combat aircraft.
That will mean about 200 jobs will be secured for the next two years.
The contract to develop electronic components for the radar system on the Eurofighter Typhoon was won from Edinburgh-based Selex Galileo.
In addition to mapping surrounding terrain, the radar is integrated with sensors around the aircraft.
The Hillend plant also contributes to radar for torpedoes, the Royal Navy's Type 45 destroyers and the Queen Elizabeth class aircraft carriers currently under construction.
Andy Brown, from Selex Galileo, said: "The end result that was achieved for these contract awards has followed a number of months of sterling effort by both companies.
"We have jointly addressed the challenges from our customer chain, and also reflected the need to 'up the ante' in a tough economic climate.
"Teamwork between our two companies made a real difference, and gives us both a strong platform for success in these important programmes."