Vion Food fined £100,000 over forklift truck death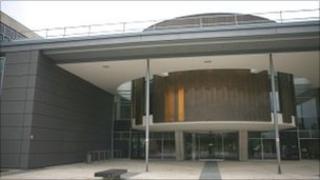 A food firm has been fined £100,000 after a worker was run over and killed by a forklift truck in West Lothian.
George Hardie, 60, died at the Vion Food Group-owned Halls of Broxburn meat factory two years ago after being hit by a badly loaded forklift truck.
The Health and Safety Executive (HSE) found the driver had been carrying two large crates that obscured his view.
At Livingston Sheriff Court, Vion Food pleaded guilty to breaking the Health and Safety at Work Act.
The court hear Mr Hardie, from Livingston, was walking across a yard on 2 June 2009 to drop paperwork off at another part of the Broxburn site.
As he was walking, a colleague was driving a forklift carrying two large empty containers across the yard to be washed.
The containers were stacked on top of each other on the front of the forklift, and the top of the load was approximately 160cm (5ft 3in) from the ground, making it hard for the driver to see over them.
As the driver approached the container wash, he felt his truck go over something. He stopped, climbed out and saw Mr Hardie lying on his back.
Mr Hardie was taken to the Edinburgh Royal Infirmary, but was found to be dead on arrival.
An HSE investigation found Vion Food Group subsidiary Vion Food Scotland had not properly assessed the risks of moving the containers around the yard or made arrangements to make sure the containers were moved in a safe way.
The investigation also found the company did not have a safe traffic management system or adequate supervision in place to keep pedestrians away from vehicles.