Wood Group of Aberdeen upbeat as profits soar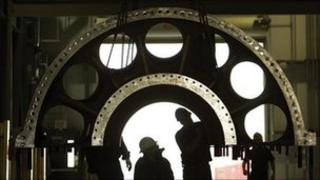 Energy services provider Wood Group has said it is confident about its prospects for 2011 after posting strong results for the first half of the year.
The Aberdeen-based company saw pre-tax profits rise by 25% to $192m (£115.9m), while sales jumped by 17% on a year ago to reach $2.8bn (£1.69bn).
The company said it continued to see strong momentum, despite recent market volatility.
It added it was "well positioned" to deliver good longer term growth.
The group has been reshaping itself over the past year after disposing of its well support division and acquiring rivals PSN for $1bn (£603m) to expand its production facilities business.
Wood Group reported the two businesses were integrating well and a strong second-half performance was anticipated.
The company, which in May reported it would return $1.7bn (£1bn) to shareholders following the disposal of its well support unit, said it planned to pay an interim dividend of nearly 4 US cents (2.4p).
'Well positioned'
In a statement, the company said it anticipated its full-year performance would be in line with expectations.
It continued: "Following the acquisition of PSN, the disposal of the well support division and the return of cash to shareholders, we are well positioned to deliver good longer term growth."
Wood Group said market conditions had continued to improve during the period with global exploration and production spending forecast to increase in 2011 and 2012.
It added: "Despite the recent volatility in financial and commodity markets, we continue to see good momentum across our business.
"The longer term fundamentals for oil and gas development and production, and gas-fired power generation, remain strong.
"Reflecting continuing confidence in our longer term outlook, we have declared a 15% increase in the interim dividend."
Wood Group employs about 35,000 people and operates in more than 50 countries around the world.