Scottish boardroom changes for women '10 years away'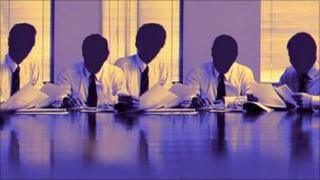 A majority of senior Scottish businesswomen believe it will take at least a decade before female board members become commonplace, a new survey has suggested.
The survey by legal firm Tods Murray indicated more than 62% said the change would take more than 10 years.
At least one in four said they believed it could be 20 years or more.
This week marks the deadline for firms to respond to report by Lord Davies on diversity in the boardroom.
Lord Davies said FTSE 100 boards should aim for a minimum of 25% female representation by 2015, and said companies must make clear what steps they would take to increase female presence in the boardroom.
However, the Tods Murray survey suggested many businesswomen still believed it would be some time before the male dominance of company boards changed.
In the survey, only 4% believed the report had made a big difference to attitudes, with 42% suggesting it had made a slight difference. Nearly 40% said it had made no difference.
'Biggest hurdle'
Nearly half (46%) of the respondents said being accepted in an existing male culture was the biggest hurdle. This was closely followed by "lack of encouragement", which was cited by 42%.
Fiona Buchanan, from Tods Murray, said: "The survey suggests that Scottish businesswomen are divided over whether the Lord Davies report has made a difference.
"The majority - 70% - doubt whether Scottish companies will in fact meet the first deadline set by the report.
"But it has been a first step and our survey highlights that those not in a board position at the moment are ambitious for the future."
She added: "However, workplace culture clearly plays an important part and this needs to change if companies are to reach the targets set by Lord Davies."
The Women in Business Network survey was carried out by Tods Murray this month and collated the opinions of more than 100 senior businesswomen.