Faroe Petroleum shares climb after oil discovery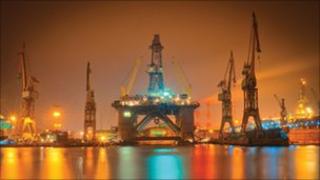 Faroe Petroleum's share price has soared after the company said it had found oil at its first operated exploration well, west of Shetland.
Shares rose by 16% in early trading after it reported better than expected reservoir quality and "good indications of mobile oil" at its Fulla prospect.
Oil samples were successfully recovered for detailed analysis.
The well is located 31km (19.2 miles) to the north east of the BP-operated Clair field platform.
Aberdeen-based Faroe said it believed there was potential for a commercial field development, probably in combination with its nearby Freya discovery.
Freya was drilled by Mobil in 1980 and encountered oil-bearing Devonian Clair reservoir sands, but a valid surface oil sample was not obtained.
Faroe shares a UK licence for Fulla and Freya with Canadian Overseas Petroleum Limited (COPL).
In this latest stage of a multi-well drilling programme, Faroe drilled through a gross oil column of 133ft and a net oil column of 45ft using its WilPhoenix semi-submersible rig.
It said the reservoirs it encountered were "close to prognosis".
'Positive outcome'
Faroe chief executive Graham Stewart said: "We are very pleased with the positive outcome of this frontier West of Shetlands exploration well.
"To announce a discovery in our first operated well is a significant achievement for Faroe Petroleum and is a realisation of the team's vision and ability."
Mr Stewart said further work would be conducted in the coming weeks to gain a deeper understanding of the structure and its contents.
He added: "With better than expected reservoir quality and good indications of mobile oil, we believe there is potential for a commercial field development, most likely in combination with our nearby Freya discovery."
Faroe, which operates mainly in the Atlantic margin, the North Sea and Norway, plans to drill three further exploration and appraisal wells in Norway this year.
Drilling has already started on the Butch well, with work on two further wells - T-Rex and Kalvklumpen - planned in the coming months.
Although Faroe's share price climbed on Wednesday, it was still well down on its value a year ago.
In June, Faroe decided to abandon a well west of Shetland after a nine-month operation.
The firm, which shared the Lagavulin well with oil giant Chevron, reported it had not uncovered any workable reserves.