Mortgage lending in Scotland 'rises sharply'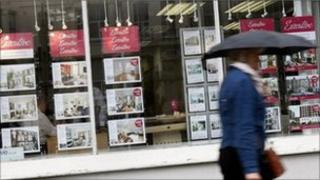 Mortgage lending rose at a higher rate in Scotland than the UK as a whole in the second quarter of 2011, according to new data.
The Council of Mortgage Lenders (CML) said loans worth £1.3bn were taken out - an increase of 42% on the previous quarter.
This compared to a 25% rise in the UK as a whole.
The number of loans in Scotland rose by 36% to 11,300, compared to a UK-wide increase of 26%.
CML Scotland said the seasonal increase in Scotland had been expected but mortgage activity remained "at low levels by historical standards".
The latest data indicated the number of loans to first-time buyers rose from 3,300 (worth £280m) in the first quarter to 4,300 (worth £384m) in the second.
This was a larger increase at 30% by volume and 37% by value than the increase experienced by first-time buyers UK-wide.
First-time buyers
Scottish first-time buyers typically borrowed 79% of their property's value in the second quarter, up from 77% in the previous quarter but still below the average of 80% in the UK as a whole.
First-time buyers also took out loans on average 2.9 times their income, up from 2.84 in the first quarter but below the 3.19 seen UK-wide.
Kennedy Foster, policy consultant for CML Scotland, said: "We have seen the expected seasonal increase in mortgage activity in Scotland in the second quarter of 2011, but levels of mortgage activity remain at low levels by historical standards.
"With the uncertain economic outlook we expect this to continue for the rest of the year."
A recent survey by Lloyds TSB Scotland suggested Scottish house prices fell by 3.7% in the past three months.
The bank's Scottish house price monitor reported the average Scottish house price was £152,565, almost the same level as early 2007.
In the three months ending July 2011, the quarterly price index for the average domestic property in Scotland fell by 3.7%.
The number of sales was reported to be low, but had increased since winter.