Eastern Airways to launch first service from Glasgow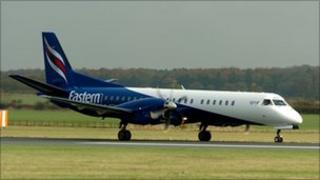 Eastern Airways is to launch its first international service from Glasgow next month.
The regional airline, which specialises in routes serving the oil and gas industry, will operate three flights a week to Stavanger in Norway from 12 September.
Eastern Airways already offers services to Stavanger from Aberdeen and Newcastle.
The airline first entered the Norwegian market in 2007.
Kay Ryan, Eastern Airways' commercial director, said: "A new convenient route to Stavanger from Glasgow will not only benefit offshore workers who live in central Scotland, but also Norwegian contractors and businesses with links in Glasgow and the surrounding region.
"We will monitor the service and look to increase frequency if there's high demand for more flights."
Norway is the third largest exporter of oil in the world and many major energy companies have bases in Stavanger on the south west coast.
The new Stavanger flights will operate on Mondays, Wednesdays and Fridays.
The regional airline has a fleet of 30 aircraft flying from 21 airports in the UK, Ireland, Norway and France.
Donegal route
Meanwhile, Loganair announced it would introduce new services linking Glasgow to Donegal in Ireland from 3 November, creating 10 new jobs at Glasgow Airport.
The move, part of the regional airline's ongoing expansion plans, follows its successful tender for a contract from the Irish government to operate a route between Dublin and Donegal.
Loganair is looking to fill 10 vacancies for pilots and cabin crew to expand its crew complement for the new route.
Services will be operated by Loganair's 34-seat Saab 340B aircraft under its franchise agreement with Flybe, Europe's largest regional airline.