Fife yacht firm A Mylne and Co charts return to top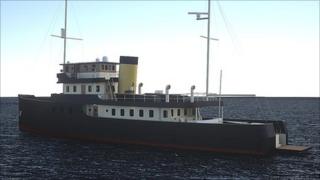 A Swiss industrialist could hold the key to returning one of the most famous names in yacht design to the forefront of the industry.
Fife-based firm A Mylne & Co has been commissioned to construct a unique £7m vessel for the unnamed businessman.
The 36m (118ft) vessel, code-named PF36, will be the first new Mylne yacht design for 30 years.
Mylne was formed in 1896, making it one of Britain's oldest yacht design firms in continuous production.
The company was founded by Alfred Mylne, who went on to produce luxury Edwardian yachts in the pre-war years before handing the business over to his nephew, Alfred Mylne II, on his retirement in 1946.
The company's fortunes flagged in later years until it was bought over in 2007 by Ace Marine Ltd, an established naval architecture and design business based in Limekilns.
The new yacht will be designed in its offices on the banks of the Forth.
Mylne said the vessel would be a modern craft "featuring a classic look", and be capable of circumnavigating the world.
Green fittings
Green initiatives will include fitting the vessel with a skysail to take advantage of wind power during long crossings.
There will also be a wind generator, LED energy efficient lighting and extra thermal and acoustic insulation.
The ship will go into production later in 2011 and is scheduled to be completed by Spring 2013.
The location of its build has yet to be decided and Mylne is exploring options with boat yards both in the UK and abroad who are competing for the contract.
Mylne is also in the process of sourcing as many local Scottish suppliers as possible to provide the fixtures and fittings for the vessel.
The yacht firm said it already has a number of other new designs in the pipeline ready to be launched.
Mylne director David Gray said: "We are delighted with this new project as it is very much in keeping with the whole ethos of Mylne.
"It really is a fantastic opportunity to put the company's name back on the map.
"It's the culmination of the hard work we've been putting in over a number of years to revive Mylne."
He added: "Once we have this one under our belts we are looking at expansion and other ways in which we can build up the company.
"We already have plans for a range of new leisure boats that reflect the classic Mylne style cues and believe there is a market for them all around the world due to the very strong heritage of the brand, so it's a very exciting time for the business."