National convention to focus on economic recovery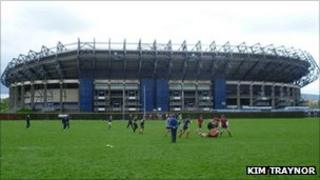 Scotland's first national business convention will focus on building a sustainable economic recovery, organisers have said.
The event, which will be held in Edinburgh in the autumn, is being run by the Federation of Small Businesses (FSB) and the Scottish Council for Development and Industry (SCDI).
Delegates will include financiers and business support agencies.
The convention will be held on 1 October at Murrayfield Stadium.
The FSB's Scottish policy convener, Andy Willox, said: "We all want a sustainable recovery built on the strong, broad foundation of more businesses, doing more business, providing more quality jobs in a wider range of sectors.
"But times ahead are tough and we need to face up to difficult questions about how we manage the coming reductions in public spending.
'Real conversation'
"We need a real conversation about the real economy. And we are kicking that conversation off at the national business convention by bringing the widest range of expertise together to map out the route forward - both for businesses and government."
SCDI chief executive Lesley Sawers said the convention aimed to "unleash the potential" of small and medium-sized businesses.
She added: "The convention creates an excellent platform from which businesses of all sectors can tap in to and share expertise, networks and invaluable insights about winning businesses, working smarter and succeeding the key domestic and global markets which offer huge potential for Scotland."