Textile firm Anta to open shop in Milan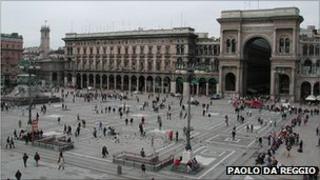 Scottish textile and ceramic company Anta is to open its first overseas shop in Milan next month.
Anta's tartans will be on sale in the Excelsior, a new department store in Galleria del Corso.
The firm was one of a handful of UK brands chosen by Excelsior to represent British style in the the Italian fashion capital.
Anta was founded in the Highlands 25 years ago by designer Annie Stewart and her husband Lachlan, an architect.
Anta's other outlets include its flagship store in Edinburgh, a showroom at its factory in Fearn, Ross-shire, and an online shop.
Managing director Annie Stewart said she was confident Anta, which employs 28 people in Fearn and Edinburgh, would rise to the demands of the Italian market.
'Proud tradition'
She said: "Scotland has a long, proud tradition of producing high quality design and textiles and now Anta is getting a great chance to demonstrate how we combine tradition with contemporary style in one of the most stylish cities in the world.
"I have always loved the combination of wonderfully seductive colour with beautiful material."
She added: "Along with the bagpipes tartan evokes poetry, romance and heroism around the world. I am sure the Italians will love it".
Excelsior's main buyer, Dario Spadea Pandolfi, commented: "We needed a British company to complete the store's global offering and give a true sense of British style and quality manufacture.
"Anta made complete sense to us - attention to detail, glorious colours and the finest materials…all made in Scotland."