CMI survey says male bosses paid more than women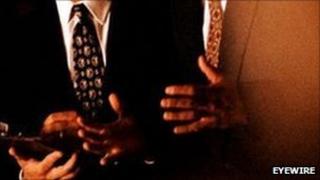 Male executives in Scotland are paid on average £10,000 more than their female counterparts, a survey has suggested.
The Chartered Management Institute (CMI) said male bosses earned an average of £40,965 while a woman's annual salary was £30,652.
Female salaries are increasing at a slightly faster rate but the CMI claimed it would take 75 years for women to catch up with men.
The CMI said the gender pay difference was damaging business.
The £10,313 pay gap in Scotland is slightly smaller than the UK average of £10,546.
The biggest gap of £13,793 was found in Northern Ireland with the smallest of £2,441 in Wales.
CMI's head of business development in Scotland, Ian Andrew, said: "This year's salary survey demonstrates, yet again, that businesses in Scotland are contributing to the persistent gender pay gap and alienating top female employees.
He added: "Imposing mandatory quotas and forcing organisations to reveal salaries is not the solution.
"We need the government to scrutinise organisational pay, demand more transparency from companies on pay bandings and publicly expose organisations found guilty of fuelling the gender pay gap."
The CMI found that redundancy hit Scottish men and women equally, although senior female executives were twice as likely to be made redundant than their male counterparts, while almost five times as many female directors as male directors lost their jobs (0.6% of men compared with 2.9% of women).