Mortgage shortage boosts rents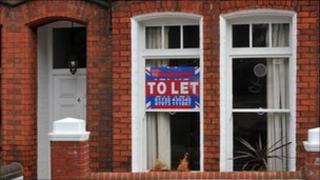 A lack of available mortgages has continued to push up rents although the pace of growth is slowing, according to surveyors in Scotland.
The Royal Institution of Chartered Surveyors (RICS) said in the last three months 10% of surveyors it questioned said rents had increased.
This represented a slowdown on the last survey, and RICS suggested this meant supply was catching up with demand.
RICS said would-be first-time buyers were being forced to rent.
The surveyors body said many would-be buyers were struggling to find a mortgage or raise the money needed for a deposit.
As a result it said 50% more chartered surveyors reported a rise in demand rather than a fall.
Social lettings
The number of tenants relying on housing benefit from the government also increased, which RICS said was unsurprising given the challenging economic conditions.
Figures showed social lettings were at their highest level since records began in 1999, accounting to 12% of all new rentals - up from 3%.
Graeme Hartley, RICS Scotland director, said: "The combination of strong tenant demand and an increase in the number of rental properties on the market has resulted in rents stabilising.
"With mortgage finance for first time buyers likely to remain in short supply for some time to come and an increase in new landlord instructions, demand and supply should be balanced in Scotland for the foreseeable future."