Scottish manufacturing still resilient, says survey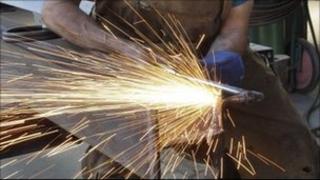 Scotland's engineering sector has continued to show "remarkable resilience", according to a new survey.
The report by Scottish Engineering and M&C Energy indicated orders, output volume and prices were "very positive" for the sixth consecutive quarter to the end of August.
It also said optimism within the sector remained high.
The picture contrasted sharply with a separate UK-wide survey this week of manufacturing executives.
The Markit/Cips manufacturing purchasing managers' index (PMI) indicated UK manufacturing output shrank in August, led by a sharp decline in export orders.
Based on responses from about 150 Scottish firms, Scottish Engineering said total order intake had for the last six quarters maintained levels not seen since the second quarter of 2007.
But it said orders and optimism in metal manufacturing and non-metal products had slipped into negative territory.
Scottish Engineering chief executive Peter Hughes said: "While our level of optimism remains high, our sector realises that in the longer term we are not immune to the effects of the uncertainty associated not only with the Eurozone but also the USA.
"It is also heartening to see that the majority of companies who completed our questionnaire are looking positively at the next three months.
"I see from the three main exemplars - orders, output and prices - that they are all virtually as positive as the previous quarter has been."
Commenting on the survey, M&C Energy Group chief executive Mark Dickinson said: "We recognise that in the current survey, engineering manufacturing companies have been able, to a certain extent, to increase prices - thus offsetting raw material and energy costs.
"As part of the process, we would also recommend companies to be aware that savings as well as price increases can play a significant part in balancing the equation.
"All in all, we are delighted with the performance of the industry in Scotland."