Diageo planning £6m Speyside bioenergy plant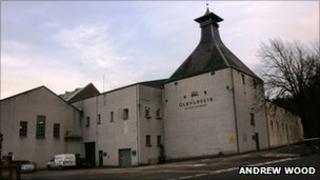 Drinks giant Diageo has announced plans for a new £6m bioenergy plant at its Glenlossie distillery in Moray.
A planning application to build the facility has been submitted to Moray Council.
The plant will produce energy by burning draff - the spent grain left over from distilling whisky.
The investment is on top of a £20m plan to expand its malt whisky distillation capacity in Speyside over the next three years.
The Glenlossie bioenergy plant will use around 30,000 tonnes of draff per year, the by-product from around 12 million litres of Scotch whisky production.
The facility will produce steam which will be used in the operations on site, including Glenlossie and Mannochmore distilleries and the onsite dark grains plant, which makes animal feed.
Diageo has invested heavily in renewable energy projects in recent times, including a £65m bioenergy plant at Cameronbridge in Fife.
It has also invested at Roseisle distillery, the new £40m distillery which it opened in Speyside last year.
Diageo's malt distilling director, Brian Higgs, said: "With Roseisle distillery, we showed what can be achieved in using the natural by-products of our industry to produce green energy.
"Diageo is committed to reducing its reliance on fossil fuels and to reducing our overall impact on the environment."
He added: "The plan for Glenlossie is another significant step in our journey towards that sustainable future for Scotch whisky production."