Plans for £89m innovation centre in Glasgow submitted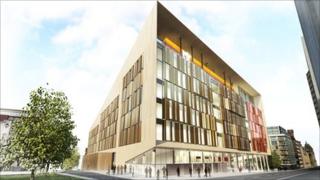 Plans for an £89m state-of-the-art innovation centre in Glasgow have been submitted to city officials.
The project, at Strathclyde University, aims to bring together academics and industrial partners to engage in areas such as energy and pharmaceuticals.
The Technology and Innovation Centre could create more than 700 research jobs and support 850 existing jobs.
The planning application was submitted after consultation with staff, students and the community.
It was submitted jointly with plans for Scottish Enterprise's neighbouring industry engagement building on George Street, which would have a floor area of about 4,800 sq m and space for around 500 occupants over five storeys.
Strathclyde University said the joint move would enable innovative companies to relocate and easily access Strathclyde's research expertise.
Transparent design
The 22,000 sq m innovation centre, which offers the equivalent floor space of about three football pitches, features a transparent design which project planners claim will help it become a gateway between the Merchant City and city centre.
Strathclyde University principal Prof Jim McDonald said: "The Technology and Innovation Centre is designed to transform the way universities, business and industry collaborate to bring global competitive advantage to Scotland.
"Its initial focus for multi-disciplinary research and postgraduate development will be on low carbon technologies, sensors and photonics, bio-nano systems and pharmaceutical manufacturing."
The technology centre is Strathclyde University's single-biggest investment in research capacity, and has attracted financial backing from Scottish Enterprise and the Scottish Funding Council. Its founding partners are SSE, ScottishPower and the Weir Group.
If planning permission is granted, enabling works will begin on site from January 2012, with the official opening earmarked for 2014.