Faroe petroleum founder eyes London Stock Exchange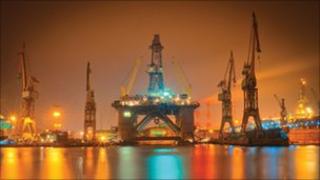 Faroe Petroleum could move into the bigger league of the main London Stock Exchange within the next two years.
Chief executive Graham Stewart told BBC Radio Scotland that is his intention.
However, he is holding off until the company can enter the market in the mid-range, where it could be part of the FTSE 250.
The Aberdeen-based oil exploration company has been trading on the Alternative Investment Market in London since floating in 2003.
Mr Stewart, who founded Faroe Petroleum in 1998, said the firm is growing by acquiring assets, but conceded the company is vulnerable to takeover.
"That's always a concern - how far along the road can we get before that happens - but we hope we can go a long way further than we've got so far," he said.
Also speaking on the Business Scotland programme on BBC Radio Scotland, Alec Carstairs, an energy expert with Ernst and Young in Aberdeen, underlined that smaller oil and gas companies are vulnerable to takeover in the current market, following the takeover of Venture Production and Dana Petroleum in the past two years.
He said share price volatility and difficulty with financing has added to the woes of smaller operators in particular, according to the consultancy firm's latest business barometer.
Mr Stewart said that Faroe's portfolio of assets - worth more than £100m, according to 2010 accounts - across UK, Norwegian and Faroes waters has not extended to bids for blocks west of Greenland, because the cost of insurance bonds are too high for a smaller driller.
The lead in Greenland is being taken by Edinburgh-based Cairn Energy, which has partners able to provide that reassurance to the local administration, and it faces criticism from environmental activists for taking risks in untested Arctic waters.
"It's an approach the Greenlandic ministry have taken to ensure that, should anything go wrong, those responsible are financially able to put it right," said Mr Stewart.
"They've introduced quite punitive financial burdens on anybody who comes in.
"That does restrict the number companies they may get, and unfortunately, at this stage, we're one of the companies that hasn't yet found a way to resolve that."
Surprise element
Speaking on Radio Scotland less than a fortnight after announcing very positive drilling news from the Fulla field, but only two months after a more disappointing result from the Lagavulin prospect, Mr Stewart talked about the roller-coaster of working in the exploration business, and what it takes to make a good driller.
He said: "It's not for the faint-hearted, but you've got to see the business in perspective. We're drilling a portfolio, and by the nature of exploration, there will be more disappointments than successes.
"The global average for exploration successes is one in five. Out of our last seven wells, we've had five successes, so we've had a good run."
Mr Stewart said this year's Budget rise in tax on offshore production, taking £2bn more each year from oil and gas companies, was unhelpful in persuading his investors to stick with projects in UK waters.
"We deal in Norway, and the attraction of Norway is its fiscal stability, that they have not changed their tax rates for 30-odd years, whereas in the past single figures years in the UK, tax has gone from 30 to 62%," he said.
"That creates uncertainty, it creates all sorts of concerns among investors: [asking]is this the right place for Faroe to be, and to be investing in, if the tax rate keeps going up."
Mr Carstairs, from Ernst and Young, agreed on that point about uncertainty, saying it is not just this year's increase in tax which has stunned the industry, but the surprise element of it has raised fears that UK tax is now highly unpredictable and similar tax increases could take place again.
You can hear the interviews with Graham Stewart and Alec Carstairs on BBC iplayer and by the free download of Business Scotland from 4 September.