New orders boost Fife shop fitter Havelock Europa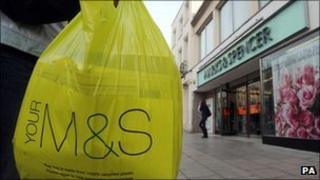 Fife shop fitting company Havelock Europa has continued to cut its losses.
The firm, which furnishes major retailers as well as schools and offices, reported a loss of £1.5m in the first half of 2011 compared with a loss of £4.6m for the same period last year.
Havelock reported it had made good progress in securing business in overseas markets.
It also said its work with Marks and Spencer had "increased considerably".
Havelock said it was now not only a "main shop fitting supplier" for the retailer, but it had started "to undertake store fit-out contracts as well".
Since the end of its reporting period, Havelock said it had finished its first project for Virgin Money and was in talks about future work.
However, the company's revenues from its educational division were down 6% to £3.8m, which it said reflected the "continuing fragility in the direct-to-school market".
Havelock has warned in the past of the impact of public spending cuts to school budgets.
The company's outgoing chairman, Malcolm Gourlay, said: "The trading environment remains challenging and competitive.
"However, we believe the actions we are taking will position us for further improvement and recovery."