Prawn treatment firm Xyrex in US move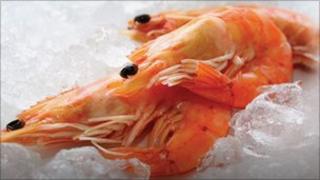 Scottish company Xyrex has signed a US distribution deal for a product that extends the shelf life of harvested prawns.
The deal follows a sharp rise in overseas sales of the firm's Prawnfresh liquid solution over the past year.
Prawnfresh works by inhibiting the enzyme present in shellfish that results in shell discolouration.
Xyrex signed its North American distribution deal with Louisiana-based firm Seafresh Solutions.
It hopes to secure major deals with the Louisiana shrimp industry, which was hit by the BP Gulf of Mexico oil spill last year.
The Glasgow-based firm has expanded its export markets substantially in the past year with the help of business support organisation Business Gateway.
Xyrex, which now exports to Spain, Italy, North and South America, South Africa and the Asia Pacific, saw sales leap by 20% between March 2010 and March 2011. The company, which declined to specify figures, said it was in line to double sales this year.
'Huge potential'
Managing director John Davis said: "We have mounted a co-ordinated marketing campaign recently into key export markets and we are thrilled that these efforts are beginning to bear fruit.
"There is a huge growth potential for prawn farming especially in the Far East and we are looking to keep pace with the expansion of the sector."
Prawnfresh, which the company describes as a "sulphite-free biological product", is aimed at tackling the natural process of shell discolouration - known as melanosis or blackspot.
Mr Davis explained: "Prawnfresh is a solution designed to increase shelf life which in turn increases their market value, all the while retaining the natural taste and appearance of prawns.
"Up until now the main treatment for melanosis has been the use of sodium metabisulphite which merely masks the discolouration and can have a negative impact on the quality of the prawn.
"We believe Prawnfresh solves the problem, is safe to use, leaves no chemical residue and produces a much more natural looking and better tasting prawn."
Prawnfresh is manufactured under licence by Perth-based Tan International.