Scottish new car sales up after poor year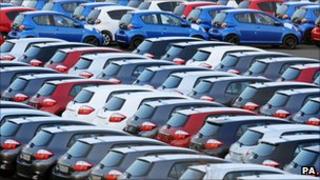 New car registrations in Scotland were almost 10% higher last month than the same period in 2010, according to the latest figures.
The rise of 9.4% to 5,235 units was higher than the percentage rise for the UK as a whole, which recorded an increase of 7.3%.
However, Scottish registrations for the first eight months of 2011 were 7.7% down on the same period last year.
The figures came from the Society of Motor Manufacturers and Traders.
Regions in Scotland which saw the highest rises last month were Fife (up 33.8%), Dumfries and Galloway (up 30.3%) and Tayside (up 26.9%).
The Borders region was the only area to register a fall in August, dropping by 8.1% on the same month last year.
Commenting on the data, Scottish Motor Trade Association Douglas Robertson said: "This is our first rise in new car registrations since May of this year and - whilst the figures are small - it is a very encouraging sign in the month before the arrival of the '61' plate registrations.
"We are anticipating yet another increase in September and with the range of improvements in fuel economy and finance offers available, we do look forward to consumers visiting our members' showrooms in greater numbers in the latter part of the year."