Duke of York opens new Glenmorangie bottling facility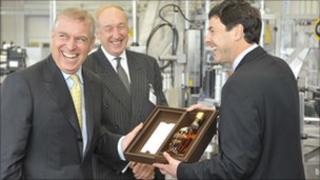 The Duke of York has officially opened The Glenmorangie's Company's new £13m bottling facility in West Lothian.
The new Livingston plant is part of a wider £45m investment programme launched by the company in 2008.
The distiller has been refocusing on its core brands - Glenmorangie and Ardbeg - to meet rising global demand for its premium single malts.
The facility at the Alba Campus has two bottling halls and is designed for efficient use of energy and water.
During the official opening, Prince Andrew - who is a teetotaller - was presented with 270 bottles, which will go to his chosen charities for auction.
It was the prince's second visit to a Glenmorangie site in the past 14 years.
In 1997, he visited the company's distillery in Tain, Ross-shire, when a special cask was laid down in his name. That cask is now being bottled at Livingston as a Special Reserve.
'Exciting times'
Glenmorangie president and managing director Paul Skipworth said: "Our new production facility has been a key part in refocusing the company to further grow Glenmorangie and Ardbeg worldwide.
"These are exciting times for The Glenmorangie Company and we are delighted that Prince Andrew was able to join us today to see his Special Reserve go 'down the bottling line'."
Between 2008 and 2010, Glenmorangie undertook a multi-million pound investment programme which included selling its Broxburn bottling and cask warehousing site and building the new production facility in Livingston.
It also moved its headquarters from Broxburn to The Cube building in central Edinbrugh and increased capacity and cask warehousing at its Tain Distillery.
The Glenmorangie Company is owned by French luxury goods giant Louis Vuitton Moet Hennessy.