Call to split Lloyds Banking Group into three
One of Scotland's top financiers has called for Lloyds Banking Group to be split into three.
Sir George Mathewson said his former rivals should be split between its former parts; Bank of Scotland, Halifax and Lloyds TSB.
The former chief executive and then chairman of Royal Bank of Scotland, hinted that he was still involved in plans to compete in the bank market.
However, he said he was "not at liberty" to talk about the details.
"I think there will be new banks emerging, but it is very difficult to challenge the big forces in banking - the big retail banks - so I wouldn't go into direct competition with them," he said.
'Serious doubts'
In 2008, when crisis-hit Halifax Bank of Scotland was taken over by Lloyds TSB, Sir George Mathewson joined with former Bank of Scotland chief executive Sir Peter Burt in an unsuccessful bid to protect the independence of the Edinburgh-based bank.
His comments come ahead of publication of the final report on Monday of the Independent Commission on Banking, set up by the UK government to assess options for reforming the bank system.
Its interim report recommended ring-fencing divisions of banks, so that risky investment bank trading cannot threaten to collapse mainstream retail and business banking.
It is also expected to recommend measures to improve competition in the sector.
Sir George, who drove the merger of RBS with NatWest, told BBC Radio Scotland he "always had serious doubts" about RBS's move into extensive investment banking - which later went on to bring about its near downfall.
And while Lloyds does not have a large investment bank division, he said it has too large a share of the British market, with about 30% of current accounts and mortgages.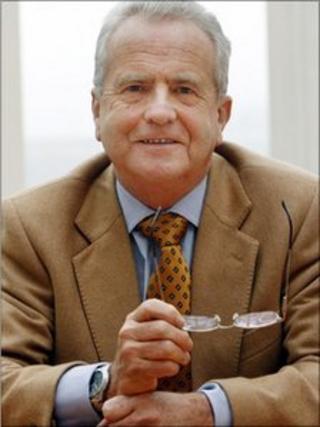 Sir George said current economic problems should not mean delays to the long-term reforms necessary.
And he said the UK government should re-negotiate the requirement from the European Commission for Lloyds Banking Group to sell off 630 branches, with about 5% of the market.
"That had nothing to do with increasing competition," he told the Business Scotland programme. "That was a punishment.
"I think at the moment, where other European banks are getting assistance from their governments, the British government should be speaking to the [European Union] and say: 'let's forget that, and do something sensible, and do something that's going to increase competition'."
He went on: "I would like to see it go back to the Bank of Scotland, Halifax and Lloyds.
"It's much easier to establish a bank from an institution that's there, rather than take a bunch of branches and trying to create a bank - because you can be sure you're doing something customers don't want, and you're going to find lots of forces at work that are going to militate against an effective job being done".
Bank of Scotland and Halifax formed HBOS in a 2001 merger, and the takeover of HBOS by Lloyds TSB was completed in January 2009.
You can hear more about Sir George Mathewson's views on the BBC iPlayer.