Banking on the future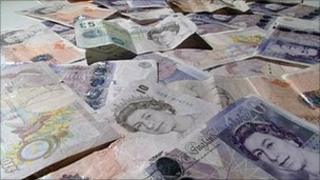 There are big economic changes afoot - no, not just the rise of China, the eurozone crisis, America's debt and looming peak oil.
They are afoot today, with the reform of Britain's banking system, and new data about the Scottish economy. And while these answer many questions, they also generate new questions.
On the Vickers Report on banking for instance, Scotland's largest company looks like it faces some of the biggest changes from ring-fencing investment banking from the mainstream.
It's not clear, on an early reading of the report, how much point there remains in Royal Bank of Scotland continuing to operate an investment bank alongside its commercial and retail arms.
Perhaps the branding will remain useful to both. But there is bound to be the question: where does the advantage lie in an investment bank which is cut off from its in-house source of funding, and should it not simply split completely?
And where would that leave Gogarburn as the headquarters of a global bank?
Dark horse
Lloyds Banking Group, with around 30% of the nation's current account and mortgage lending, is even more dominant in the Scottish business market.
So while ring-fencing gets much of the attention in the final Vickers Report, the measures on improving competition within the banking sector are worth close scrutiny too.
Vickers' Independent Commission on Banking has concluded that more of Lloyds should be sold off.
Whereas the European Commission has already ordered a sell-off of more than 600 branches - meaning around 4.6% of the personal banking market - Sir John Vickers now says that should be pushed up to 6%.
In a simplistic and very rough calculation, that comes to 200 more branches being sold off - or a chunk slightly larger than Lloyds TSB Scotland.
But Vickers is not making it so simple. He is saying that the divestment by Lloyds has to lead to improved competition within banking.
The report isn't measuring the scale of the additional divestment in branch numbers, but in its impact on competition. It seems that the more serious the competitor being created by this sale, the less Lloyds may have to sell.
If applied by the UK Government - and it may have to apply them quickly, as the Project Verde sale is well under way - that would require Lloyds to make its Project Verde assets much less onerous in capital assets required to back loans.
And because the ICB seems to think that a standalone bank could usefully have an existing infrastructure, that makes a link between Clydesdale and Yorkshire banks and the Project Verde assets make more sense.
As I've noted before, that doesn't necessarily mean more competition in the Scottish market, as it would take Lloyds TSB Scotland and Clydesdale under the same wing.
Against the backdrop of gathering economic stormclouds, these changes may be ushered in more gently than would otherwise have happened.
'Decade of pain'
At the start of the week, we're getting yet more grim forecasting and data about confidence levels (the worst for more than two years, according to one survey).
The Institute of Fiscal Studies is warning of a decade of pain, following the spending cuts and paying down debt.
The Trades Union Congress, beginning its annual gathering, has calculated that a 'Middle Britain' family faces a £4,600 cut in living standards by 2013 - including falling real wages, cuts in tax credits and a reduced level of public service provision.
So why is it that Scottish economic data seems to be relatively upbeat?
The Bank of Scotland's Purchasing Managers' Index for August, just published, looks "solid", or even "robust", if you're looking at manufacturing. And it's been that way for eight straight months.
That is in line with the Scottish Engineering survey, out last Monday, which seemed also to be going against the grain of poor expectations further afield.
And we're hearing from the whisky industry about a 22% rise in export shipments in the first half of this year.
Mixed signals
According to the PMI figures, London is the only region or nation of the UK to be doing better. The north of England is doing considerably worse, and Northern Ireland looks dire.
Not so good is its feedback on private sector recruitment in Scotland, which has fallen into negative, job-shedding territory for the first time in seven months.
But for the first time in four years, Scottish businesses are reporting their backlog of work rose, albeit weakly, for the first time in four years.
That should be good news for jobs, as that is one of the signals for businesses to start expanding capacity, with more staff and investment.
But don't hold your breath for that. Scotland's data may look good, but recovery is dependent on its markets remaining good too.
Professor Donald MacRae, who co-ordinates the PMI for Bank of Scotland, suggests Scottish manufacturing may be benefiting from modernising in the pre-recession era to a more lean profile, helping explain why things look better for now.
But it needs healthy demand from export markets if that is to continue. And they are looking hard to find.
Perhaps John Swinney has a solution to that challenge. The finance, employment and sustainable growth secretary is publishing a new economic strategy. More on that later.