Major contract win for water firm VWS Westgarth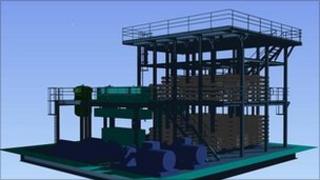 East Kilbride water solutions firm VWS Westgarth has won a multi-million pound contract with oil and gas group SBM.
VWS is to provide a specialist water treatment system to remove sulphates from water during the oil extracting process.
The system, which operates on a floating platform called Xikomba, will be towed from its current location offshore Angola to an area nearby.
The contract is thought to be worth tens of million of pounds.
It will be project-managed and engineered in VWS Westgarth's offices in East Kilbride, where more than 160 oil and gas industry specialists are based.
VWS is a subsidiary of French-owned multi-national group, Veolia.
Westgarth was originally part of the Weir group and was bought by VWS in 2005.
Veolia has nearly 10,000 workers and operates in 57 different countries.