Superfast broadband roll-out enters new phase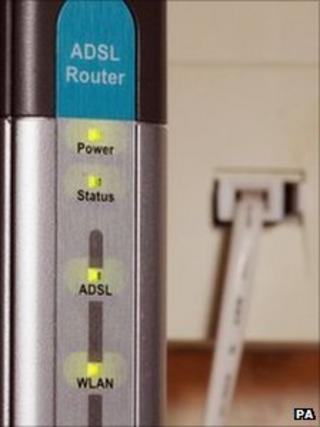 Superfast broadband will be available to another 45,600 homes and businesses in Scotland next year, BT has said.
Galashiels and Peebles in the Borders, Perth, Bannockburn in Stirlingshire, Morningside in Edinburgh and Strathaven in South Lanarkshire are the latest places included in a £2.5bn roll-out.
It will take the number of Scottish homes and businesses with access to the new fibre network to more than 372,000.
The latest upgrades are due to be completed by autumn 2012.
In announcing the latest phase of delivery, BT Scotland director Brendan Dick said BT's roll-out of superfast broadband was "marching on".
He continued: "Residents and businesses in these latest locations can look forward to choosing a high-speed connection over a network offering an unrivalled choice of suppliers, which keeps competition thriving and costs down.
"Our latest investment in these six exchange areas will propel internet users at home and at work into the 21st Century fast lane, and marks another milestone in the development of Scotland's next generation communications."
'Collective effort'
Mr Dick said BT planned to take the superfast network to two-thirds of the UK by the end of 2015 but the company would not stop there.
He added: "We have long said reaching the final third will require a partnership approach and we welcome the fact that the UK government has recently allocated funding of hundreds of millions of pounds for next generation broadband initiatives for these more challenging areas.
"As today's investment demonstrates, BT is playing its part in delivering faster broadband across the UK - but there needs to be a collective effort to ensure no part of Scotland is left behind."
The Scottish government was recently allocated £68.8m in broadband funding by the UK government.
Infrastructure Secretary Alex Neil said ensuring access for all parts of Scotland to next generation high-speed broadband by 2020 was a key priority for the Scottish government.
He added: "We are working closely with key stakeholders in the development of a strategic national broadband plan to transform this vision into a reality.
"We are clear that the private sector has a significant role to play too, and today's announcement is a welcome step forward towards achieving our vision.
"I want Scotland to have access to a fit-for-purpose, 21st Century communications network that will bring benefits to Scotland's economy and communities."
Last month, local councillors unanimously supported plans to deliver superfast broadband to every home in the south of Scotland.
Dumfries and Galloway and Scottish Borders councils agreed to a £120m funding model aimed at delivering next generation broadband throughout both regions by 2020.
It is being submitted to the Scottish government to seek a share of a UK-wide financial support package.