Cairn Energy suffers fresh Greenland setback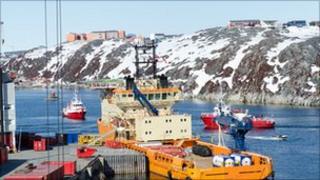 Edinburgh-based Cairn Energy has suffered fresh disappointment in the Arctic after its latest well failed to find oil.
The explorer said it was preparing to plug and abandon the Gamma-1 well offshore from Greenland.
Drilling is continuing at another well in the area - Delta-1 - although the company said only minor indications of hydrocarbons had been found.
The company had planned to drill up to four wells in the Arctic this year.
The campaign is costing the group about £400m.
Cairn announced earlier this year it had abandoned drilling on one well and suspended work on another - the AT7-1 - in order to move its rig, the Leiv Eiriksson, to the Delta-1.
The plan is now to move the Leiv Eiriksson back to the AT7-1 when exploration work is completed at Delta-1.
Because of the harsh weather, Cairn only has a short window in the summer in which to explore in the Arctic.
Chief executive Simon Thomson said: "The full results of the Gamma-1 well and the update from the Delta-1 well will be reviewed in the context of all the data gathered during the Greenland exploration campaign.
"The rigs are scheduled to move south to drill the final two wells of the programme on the Atammik block. We remain focussed on the potential of our multi-basin position in Greenland."
Shares in Cairn fell more than more than 8% in early trading.
Cairn's focus has moved to Greenland since it announced it would reduce its stake in its Indian unit.
However, its activities in Greenland have been disrupted by environmental protesters.
Cairn won a court order banning Greenpeace protesters from approaching its drilling vessels.