Scottish businesses 'taking to the water'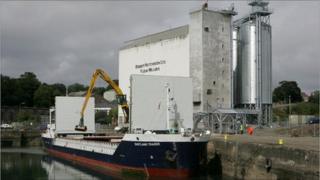 In Kirkcaldy, the MV Nina I has arrived with a precious cargo - 1,500 metric tonnes of French wheat from Nantes.
The wheat is being transferred to huge silos standing quayside at the newly reopened Fife port.
It is a scene which underlines a major transformation in the way Carr's Flour Hutchisons handles its logistics.
Until recently, the flour company used Perth port, which required dozens of trucks to transport its regular bulk wheat imports to Kirkcaldy.
But Carr's has been able to reduce dramatically its reliance on road transport, following an £829,500 grant from the Scottish government.
The freight facilities grant (FFG) allowed it to develop the harbour in partnership with owners Forth Ports.
It is estimated Carr's switch from road to water will remove 240,000 lorry miles a year from Scotland's roads.
'Unashamedly proud'
The cash was used to help the company install silos, cleaning systems, weighing systems and hoppers at Kirkcaldy, while Forth Ports invested "significant sums" in dredging and improving the facility to enable its first commercial use for 20 years.
Carr's, which mills more than 120,000 tonnes of wheat a year at Kirkcaldy, said it was "unashamedly proud" of its investment in the port project.
Wheat director Julius Deane said: "The actual cost savings are moderate for the investment we had to put in. It is a very expensive job to put in silos, for example, and the actual payback is over quite a long time period.
"But there are many advantages for us and the town.
"It is good for Kirkcaldy as it has cut the number of lorries running through it. A ship can bring in 2,000 tonnes of wheat which would require 69 trucks carrying an average of 29 tonnes.
"There is also a weather advantage. Last December, when there was the freezing weather, we couldn't get any trucks in at all - but a boat can still work in harsh weather conditions."
Mr Deane said shipping also provided greater consistency in the quality of wheat arriving at the mill.
He added: "When you have a lot of trucks, the quality can be inconsistent and there is a lot of work to make a harmonious flour. If it is in one load, it tends to be more consistent."
Carr's is one of a number of Scottish companies to have taken advantage of grant schemes, such as FFG, which are designed to provide environmental benefits.
Caledonian return
FFG alone has handed out more than £23m to Scottish businesses in the past 11 years to encourage them to transfer freight from the roads to water.
The most recent awards include a grant of £133,000 to Boyd Brothers (Haulage) Ltd towards a mobile floating pier on Loch Etive, facilitating the transfer of 108,000 tonnes of timber by water over the next few years.
And last autumn also saw the return of freight transport along the Caledonian Canal.
The Great Glen Shipping Company was awarded £122,000 for a pilot scheme to transport timber on the canal, as well as from Loch Etive to Corpach.
At the time, the Scottish government said the two grants would not only help improve connections between Scotland's east and west coasts and beyond, but reduce carbon emissions as well as congestion and wear and tear to roads.
According to Forth Ports and industry body, the Freight Transport Association (FTA), other Scottish companies are looking to follow suit and take to the water, especially during tough economic times.
Forth Ports business development manager Nik Scott-Gray said: "We are certainly seeing growing interest from businesses, as clearly there are financial and environmental benefits in using water transport."
Mr Scott-Gray added that the industry had been boosted by the freight facilities grant scheme, which had encouraged firms like Carr's to take a long-term view on developing partnerships.
Scheme closed
However, the future of the scheme is now closed to new applications and no budget has been allocated for it in future years.
A Transport Scotland spokesman said: "The budget of £1.1m for support for the freight industry will enable us to continue to fund the 16 rail and water freight flows currently receiving Mode Shift Revenue Support.
"There is no capital budget identified for freight grants in 2012-13, however, there is a low-carbon travel strand within the Scottish Futures Fund which is aimed at contributing to the delivery of the infrastructure of the future across Scotland.
"The Freight Facilities Grant is one of the options that will be considered for funding from the Scottish Futures Fund."
The FTA has been lobbying the Scottish government to maintain the schemes, arguing that companies have been able to restart or expand water freight operations as a result of the financial support.
The body said it was dismayed by the spending review announcement and said financial support for the freight industry had already been cut from £10m to £2m and that the £1.1m annual allocation was a cut in "real terms".
Chris MacRae, FTA's head of policy for Scotland, said: "What the government has announced will make it even harder for Scotland to reach its tough carbon reduction commitments.
"By effectively cutting support for companies to invest in the facilities they need to replace lorry miles with other modes of transport, it is in danger of failing to support the creation of an environmentally-sustainable supply chain."
Carr's is among those sorry to see the grants disappear.
Mr Deane said: "Without the freight grant, our port project would not have happened - the payback would not have been acceptable to our shareholders. It would have been a crying shame."
Business Scotland will feature an item on the future of water freight in Scotland at 10:05 on Sunday 25 September.