Ryanair pulls last route from Aberdeen Airport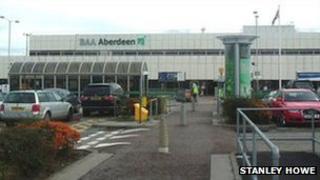 Ryanair is to pull its only remaining route from Aberdeen Airport, following a breakdown in talks with airport operator BAA.
The airline said it would end its Aberdeen to Dublin route next month, claiming BAA had refused to extend a low-cost deal.
Its final flight will depart on 28 October.
Aberdeen Airport described the move as "incredibly disappointing" but added the route was served by other carriers.
Ryanair's head of communications, Stephen McNamara, said: "Ryanair regrets the forced closure of its one remaining Aberdeen (Dublin) route, after BAA refused an extension to our low cost deal from 29 October and failed to match the competitive cost deals which are available to Ryanair from other UK and European airports."
He added that any passengers who were booked to travel after 28 October would receive a full refund.
'Incredibly disappointing'
Aberdeen's managing director Derek Provan said: "It is incredibly disappointing to hear of Ryanair's intentions to remove their service from Aberdeen Airport.
"Over the years the frequency of the flights have reduced dramatically. However, it is sad to see them pulling the remaining rotations altogether."
Mr Provan said the airport had spent months negotiating with Ryanair over unspecified "future leisure opportunities" which the airline had felt unable to consider.
He added: "This is disappointing in the light of considerable investment in our infrastructure as we continue to try and grow our leisure routes.
"We have kept the door open to the airline to allow any future discussion if they so wish, however we appreciate that at the end of the day it is our passengers who will feel the brunt of this decision.
"The route is served by other carriers and as such we hope they will not be too dramatically inconvenienced in the long term."