Faroe Petroleum losses widen but turnover grows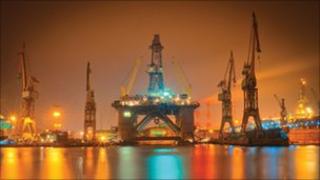 Faroe Petroleum has announced losses have risen sharply after it expanded its drilling activity in the first half of this year.
The Aberdeen-based company announced a pre-tax loss of £24m compared with less than £4m in the first half of 2010.
Exploration costs were up from £2.6m in the first half of last year to £26m. Turnover was up four-fold to £40m.
During the first half of this year, Faroe had disappointing results from its Lagavulin field west of Shetland.
But it was more successful with its Fulla field.
Graham Stewart, Faroe's founder and chief executive, said the results reflected "excellent progress" so far this year, "resulting in a significant boost to production, proven reserves and cash flow".
He added: ''Faroe has an exciting drilling programme ahead with up to five material exploration and appraisal wells per annum targeted over the next three years alone."
The company is funding its continuing drilling programme with transfers of assets that will expand its production of oil from 2,000 barrels per day earlier this year to include fields that will produce 7,300 barrels per day.
It has also secured credit for continued activities.