Budget challenge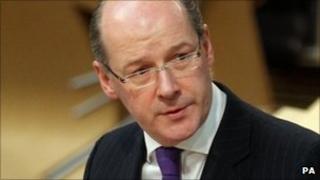 Westminster will take the blame, and there will be calls for something called Plan MacB, the Scottish government's claim that it can go against the grain of public sector squeezing across Europe, loosen the purse strings, and get some growth back into the economy.
A Plan B of some sort may have become more likely at the Treasury as sluggish UK growth forces the Chancellor, George Osborne, to re-calculate his revenue assumptions, with the International Monetary Fund hinting that he might like to prepare for changes to his austerity drive.
But these arguments are of secondary importance at Holyrood today, as Finance Secretary John Swinney meets his day of reckoning.
With the budget and the powers he's got, rather than those he would prefer to have, and with the election successfully behind him, he has to balance budgets over three years that are continuing this current year's severe squeeze.
Austerity years
So here are some of the things to watch when he stands up at Holyrood today.
The obvious one is how to pay for a wish list including continuing commitments to universal provision of free personal care for the elderly, free prescription, free bus passes for older people, plus another three years of freezing council tax and compensating universities for the gap left when England gets a lot more tuition fee income and Scottish ones don't.
Then there's the capital budget, which is falling 36% over these austerity years, yet somehow has to pay for a new Forth bridge, the Aberdeen ring road, electrification of the Edinburgh-Glasgow rail line, a new rail line for the Borders, high housing expectations, etc etc, plus the pledge to keep allocating about £140m per year to Scottish Water (for which there is no similar spend in England, and after allocating nothing at all this year).
If all that is to be paid for, what gets cut, or at least severely squeezed?
The pay bill is worth a close look, as it accounts for about 60% of the revenue spend.
John Swinney has promised it won't be frozen throughout this five-year parliament, but it may extend beyond this year and next. This year, public sector employees are seeing their earnings eroded by retail price inflation at 5%. How much are they willing to continue to see that eroded next year and perhaps the next two years?
It may be public sector unions are given a choice, if the pay freeze is part of the price to be paid to avoid compulsory redundancies.
Part of that cost could be in getting more flexibility and efficiency out of public sector working conditions.
Sustained squeeze
There has been a lot of public sector reform ahead of this budget. But if that is to follow Campbell Christie's commission into the future of public services, it would require a lot of upfront spending-to-save, with the returns on some early intervention projects to be seen only after decades.
Creating one police force out of eight requires such up-front costs.
And while that approach makes financial sense, it's hard to achieve across public services during the toughest, most sustained squeeze public spending has seen.
What will the budget do to local authorities? The past promise to ensure they don't lose their share of spending looks hard to sustain.
If health gets protected, as planned, that puts more pressure on everything else.
So what happens to the concordat with councils, particularly if they are to be pushed into another year of council tax freeze, and to use their borrowing powers to fill the capital spend gap?
John Swinney will have to be mindful of the councils' electoral cycle, which comes to an election next May.
And he has never explained why the health service should get the protection, as if it is immune to inefficiency. Councils may look to the health budget to take on more of their social care responsibilities.
Budget responsibility
Perhaps the biggest number to watch is one John Swinney won't announce and can't control: inflation. Even if the health budget gets 8% more in cash terms over the three years, that will still fall short of headline inflation over the three years, and probably further behind the rising cost of sustaining health care and meeting rising demand and expectations.
Other spending heads will face the same squeeze as all those public sector workers if their cash allocation flat-lines - 4 to 5% this year, maybe down below 3% next year, but still requiring a deeper real terms cut than officially recognised by the 2.9% inflation rate currently assumed by the Office of Budget Responsibility.
They can use a public sector pay freeze to achieve part of that.
Inflation is a helpful way for government to pay off its debts, but it comes at a cost to those whose spending power is being squeezed.