Brian Souter says enterprise should begin at school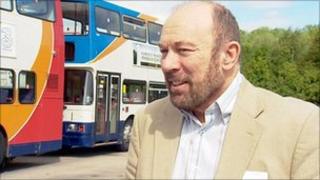 One of Scotland's richest men and leading entrepreneur, Sir Brian Souter, has said school should do more to encourage enterprise.
The businessman who founded the transport group Stagecoach, has called for a new drive to create the next generation of entrepreneurs.
Latest figures show youth unemployment up by 10% in the last year.
Sir Brian called for urgent action to tackle employability and close the skills gap.
He added: "Entrepreneurs are the engine room of the economy and crucial to a sustained recovery.
"Without question, we have people with potential in our own country, but I think more needs to be done at an earlier stage to nurture new business talent in the education system.
"Too much emphasis is placed on academic achievement and not enough on encouraging new ideas and enterprise. We need to change that."
He was speaking as Stagecoach announced a new three-year partnership with businessdynamics, part of the Enterprise Education Trust, to help change young people's perception of business, and build their skills and confidence.
The scheme helps fund a practical business awareness course for 16-19 year olds.
Almost 20,000 young Scots have taken part in the Stagecoach-funded programme since it began almost 20 years ago.