A £35m fund to attract green technology launched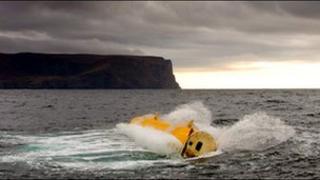 A new fund of £35m to attract new green technology has been launched by the Scottish government.
The money is aimed at supporting the next generation of wind turbines designed for use in deeper water.
The announcement by the first minister came at a renewable energy investment conference in Edinburgh.
Meanwhile the wave energy firm Aquamarine Power has revealed it has raised another £7m to develop its Oyster technology.
The money was raised from the company's major shareholders with £1m from Scottish Enterprise.
Mr Salmond said: "This is great news for Scotland's world-leading wave power industry and a clear signal to the wider energy and investment community that marine technologies can be compelling investment propositions."
Aquamarine said it was also working towards raising another £18m to enable it to commercializes its technology.
Its Oyster machine, which was built in Fife, was demonstrated earlier this year and is said to generate more than twice as much power as existing machines.
Aquamarine Power chief executive Martin McAdam said: "This level of commitment frees us up to concentrate fully on the challenge of deploying Oyster technology to produce cost-effective, reliable, clean energy from the sea.
"Our goal is to start delivering the first pre-commercial marine energy array in Scotland in 2014."