New hand-made cheese launched in Ayrshire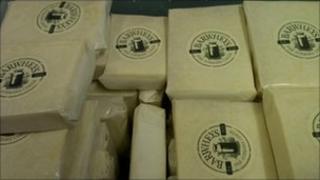 Scotland's newest hand-made cheese has been launched in Ayrshire.
Barwheys Dairy, based near Maybole, has revived the traditional cheese-making skills of the area.
Its first cheese, Barwheys Cheese, is a hard variety made from unpasteurised milk from the dairy's herd of pedigree Ayrshire cows.
The company said it aimed to be as environmentally friendly as possible using modern equipment.
The dairy is powered by a wood-fuelled boiler and much of the feed for the cattle is grown on the farm.
Tricia Bey, founder of Barwheys Dairy said: "We began building the dairy and sourcing our pedigree cattle in 2008 with the vision of bringing back local traditional cheese-making to South Ayrshire.
Launching Barwheys Dairy, Scottish Secretary Michael Moore said: "The company is to be applauded for using traditional handmade methods which add so much value to the marque and quality of Scottish products in both domestic and global markets."