Clydesdale Bank suffers downgrade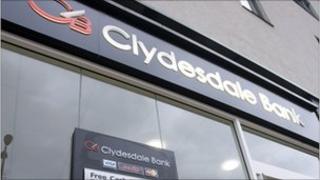 The credit ratings agency, Moody's, has downgraded the Clydesdale Bank after speculation it may be sold off.
The agency cut the Clydesdale's long-term bank deposit and senior debt rating to A2 from A1.
Moody's said its action reflected a "reduction" in the "likelihood of support" for the Clydesdale.
However the bank's parent company, the National Australia Bank (NAB). said there was no scaling down of support for its UK division.
NAB owns the Clydesdale and the Yorkshire banks.
In its report, Moody's said it had downgraded the bank following "public comments from senior management at NAB which suggest that, although NAB is likely to remain a supportive parent of Clydesdale while it owns the bank, it is open to a sale of the bank in future."
NAB chief executive Cameron Clyne said: "Our primary focus in the United Kingdom has been, and remains, organic growth.
"There has been much speculation in the UK about potential mergers and acquisitions in the past 12 months, and how our UK business may fit in with this, but in all cases this has been driven by other parties who are considering divesting or acquiring."
He added: "Our shareholders' interests require that NAB considers all potential options, but NAB's focus on organic growth has not changed, nor has the nature of the group's support for our UK business."