Scotmid warns of new spending era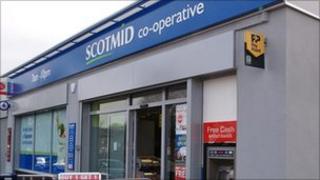 The retail chain Scotmid has reported a sharp drop in profits and warned of a new era of reduced consumer spending.
The co-operative group which has 260 Scotmid and Semichem outlets said operating profit in the first half of the year fell from £4.2m to £2.6m.
However, the group's turnover increased by £32m to £210m following the acquisition of Botterills Convenience stores last year.
The company said it had faced an "increasingly difficult marketplace".
Scotmid is one of Scotland's biggest employers with more than 4,000 workers. As well as its stores, it has a funeral business and a property division.
John Brodie, chief executive of Scotmid, said, "Scotmid finds itself in a new era of reduced consumer spending power and increasing costs such as the increase in VAT.
"This has impacted on both our food convenience and Semichem businesses. Semichem in particular has found the High Street market challenging, especially in Northern Ireland.
"The society, however, remains in a strong financial position with assets of over £100m."