Construction workers to stage protest in Cambuslang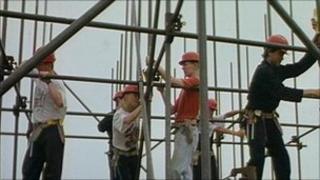 Construction workers have staged a protest near Cambuslang fire station over plans by some firms to introduce new terms of employment.
The protesters are targeting Balfour Beatty, which is working on a fire training centre opposite the station.
It is among several construction firms backing a new national agreement which the Unite union claims will result in 30% pay cuts.
But the construction firms said the new agreement had been "misinterpreted".
The Cambuslang protest is the latest in a series of demonstrations arranged by Unite to fight plans by up to eight firms to introduce a single joint industry building engineering services national agreement.
Previous targets have included Grangemouth oil refinery, Glasgow Velodrome and Edinburgh City Council.
The eight companies backing the new agreement are Balfour Beatty, N G Bailey Building Services, Crown House Technologies, Gratte Brothers, Spie Matthew Hall, Shepherd Engineering Services, MJN Colston and T Clarke.
Unite claimed the new deal would allow employers to introduce semi-skilled grades and "dictate rather than negotiate" on pay, holiday entitlement and overtime.
Unite regional officer Scott Foley said: "Our members are skilled electricians, plumbers and heating and ventilating operatives who have spent years training and they will not sit back and accept the de-skilling of their industry and the slashing of their pay.
"The protest outside this fire station will show just how fired up our members are at this unprecedented attack on their livelihoods."
'Somewhat surprised'
The construction companies involved said they intended to "harmonise" five different agreements currently covering electricians, plumbers and mechanical workers into a single joint industry agreement.
They have given workers until 7 December to sign the new agreement with a view to implementing it in March.
Blane Judd, chief executive of the Heating and Ventilating Contractors' Association (HVCA), said on behalf of the major contractors: "We are somewhat surprised at the reaction of these activists who seem to have misinterpreted the terms and conditions of this new agreement.
"The facts are that there will be no job losses or redundancies as a result of the introduction of this agreement.
"Electrical operatives' pay will remain the same and plumbing and mechanical workers will receive an increase to bring them in line with their colleagues."
He added: "There are no changes to pension, sick pay, insurance or Bupa. Holiday will be standardised which will increase electricians' holiday entitlement by one day."