Expansion sounds good for Bainbridge Music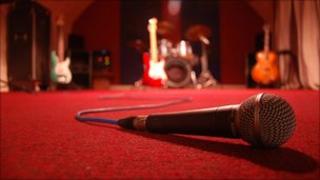 Edinburgh company Bainbridge Music has expanded to meet growing demand from customers dreaming of becoming rock stars.
The company has been running four rehearsal rooms in Leith for nearly three years and have now taken another set of premises nearby.
The new building will house a recording studio as well as more rehearsal rooms.
Bainbridge Music was started by Angus Ross and Chris Elsheikhi three years ago with a loan from Angus's father.
Angus Ross said the banks would not even have considered funding the project.
He said: "It was the start of the recession and I couldn't even get a mortgage, so I wasn't going to get a loan for a business I didn't have too much experience in".
The company offers cheap rehearsal space and the new studio is capable of demo-quality recording.
Angus said: "We've got five or six-year-olds doing singing lessons here right the way up to old boys in their 60s and 70s.
"Many of them are doing it for a laugh but there are young guys who have got dreams of rock and roll stardom and we've got student bands who are just doing it to get noticed by women.
"We allow you to make a lot of noise when you're neighbours wouldn't," he added.
Bainbridge Music has managed to expand with a loan from The Prince's Scottish Youth Business Trust (PSYBT) and said it could not have managed otherwise.
Angus Ross said he was confident of the future: "People keep asking us how we've been affected by recession but we started in recession so we've never known anything different and hopefully things will just get better.
"There will always be kids out there who want to be rock and roll stars."