Apprenticeships need overhaul, says CR Smith boss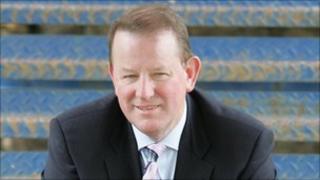 Modern apprenticeships need to be overhauled to get more young people working, according to a leading Scottish businessman.
Gerard Eadie, chairman of home improvement specialist CR Smith, said there was little incentive for sole traders to hire apprentices under the current apprenticeship structure.
He blamed the problem on the college block release element of training.
Mr Eadie claimed 'white van men' could not afford the current set-up.
He pointed out that apprentices spent 22 weeks at college in their first year and 14 weeks in their second year on full pay.
Mr Eadie said it was a significant time and financial expense that small businesses could not afford.
'White van man'
He commented: "Changing the system of block release by going back to night classes, day release or Saturday morning school would instantly make it far more feasible for 'white van man' to employ apprentices.
"For these tradesmen, it would mean having the young person on the job at the times they need them."
Mr Eadie said self-employed qualified tradesmen represented "a thriving part" of the economy.
He continued: "What if each of them was able to take on an apprentice - some extra labour to grow their business and someone to learn on the job?
"However, there is little incentive for them to take on a trade apprentice because of the way the current programme is set up.
"So something has to change. To help these young people, we have to look again at the modern apprenticeship structure and get it working for small businesses and sole traders as well as big companies."
He added: "I recognise that there would be challenges in changing the system, but I believe that apprenticeships are crucial for Scotland's future growth.
"In tough times we have to think differently. Wouldn't it make more sense to get young people into a job and stop putting obstacles in the way?"
Mr Eadie has run CR Smith since 1977. The Dunfermline-based company, which supplies and installs conservatories, windows and doors, employs nearly 350 people across manufacturing, installation, sales and customer service.